HB Glass is now providing and installing Personal Protection Sneeze Guards for office reception areas!
Serving 1000's Of Satisfied Customers For Over 39 Years.
Huntington Beach Glass is a full service Glass shop. Small job, large job, we can help! From replacing broken glass, designing custom showers, installing mirrors, personalizing your cabinet faces with a variety of textured glass, to enhancing your ocean view with glass railings or windbreaks. 
Our Commitment to you:
 
We'll give you the time necessary to assist you with your Glass & Mirror project.
We'll assure the very best in quality glass, mirrors and doors.
Installation by our own professional installers
Courteous, friendly and reliable service, always!
Contractors License # 505567
Fully insured
Showroom Hours Monday-Friday 8 a.m. – 5 p.m.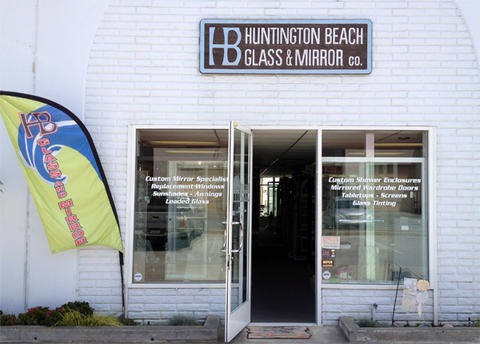 Whether your project is small or large HB Glass company's goals and dreams of providing custom design and excellent service had always been the # 1 priority. Come on down to our showroom to see how our experts can help you. Let us build your vision in glass.
"Huntington Beach is not just a city, it's also our home. "We love living here and particularly enjoy the opportunity to work with our customers who are our neighbors and friends."
Whether it be residential or commercial, Huntington Beach Glass and Mirror, Inc. utilizes the professionalism and workmanship of it's own staff of installers.